You can purchase this book (UK only) by clicking on the book picture below. If not purchasing in the UK then please click here for more information.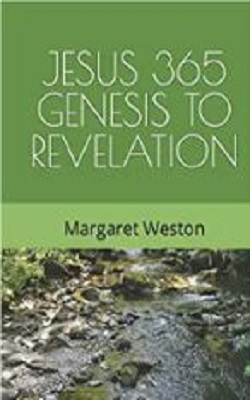 God's plans and purposes are all centred in Jesus! From Genesis to Revelation the Bible speaks about HIM. But where do you find Him in books like Ecclesiastes or Leviticus? This book will show you. A short passage of Scripture followed by a short devotional - one for every day of the year - beginning with Genesis and covering every book of the Bible showing examples of where we can see JESUS. If you love Jesus you will love this book. If you don't know Jesus yet, then this book will demonstrate God's amazing plans all centred in Him and should cause you to want to seek Him before the end of the story and before the end of your life!

A FIVE STAR review by Reader's Favorite says this:
Reviewed by Luwi Nyakansaila for Readers' Favorite
Jesus is the Alpha and Omega, the beginning and the end. No one goes to the Father except through Him. His presence is seen all through the Bible, from Genesis to Revelation. Jesus is the center of the whole story of redemption, and what best way to demonstrate the presence of Jesus in the Bible than to have a daily devotional book showcasing Bible verses that do this. Jesus' life, love, sacrifice, and works are well represented in the scriptures explained in this book. Jesus 365 Genesis to Revelation by Margaret Weston explains the scriptures in the Bible that talk about Jesus.

Jesus 365 Genesis to Revelation is a beautifully organized devotional book. The basis of this work is all centered on Jesus and not random devotions. I found this to be unique and creative. The devotions are all written with great details explaining their connection to Jesus. Every day of the year, you get a sermon to carry you through the day. I love the concept of daily devotionals because there is power in creating a daily routine. This book can change a person's life for the better because having a dose of Jesus daily will grow your faith and give you peace and comfort, a reminder of the love and protection that God has placed over us. I recommend this book to people who want to know Jesus and His importance in their lives, and Christians who love reading daily devotional books and want to build a stronger faith in the Lord.